Posted on November 22, 2017
MAGSAYO'S OPPONENT HAYASHI ARRIVES IN BOHOL
PhilBoxing.com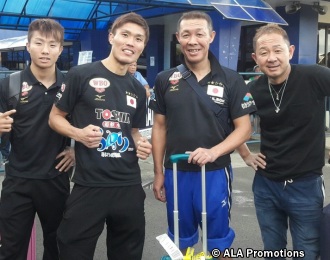 Veteran and former Japanese featherweight champion Shota Hayashi (30-6-1, 18KOs) arrived in Tagbilaran, Bohol earlier Monday, aboard PhilippIne Airlines flight PR 2777 along with his team including promoter/manager Hatanaka Kiyoshi.

Hayashi takes on the undefeated Mark "Magnifico" Magsayo in the latter's third title defense of the WBO International Featherweight strap.
The Magsayo-Hayashi bout headlines ALA Promotions' 43rd Pinoy Pride edition, The Battle in Bohol, this Saturday, November 25th at the Bohol Wisdom Gymnasium.
Fighting in the undercard are Magsayo's stable mates "Prince" Albert Pagara and Jeo "Santino" Santisima who will face Tanzanian Mohammed Kambuluta and Indonesian Kichang "The Lion from Borneo" Kim respectively.
Kambuluta will arrive on Tuesday, November 21st, with trainer Paul Otieno Akoth at 10:35AM via Philippine Airlines flight PR 2773.
Kim, on the other hand, will be in Bohol on Wednesday, November 22nd at 10:35AM via Philippine Airlines flight PR2773 accompanied by trainer Hawendra.
The local media in Bohol will get a chance to meet Hayashi in an intimate lunch gathering on Tuesday at Abi's Seafoods and Grill.
Photo: Hayashi (second from left), poses with his team shortly after arriving at the Tagbilaran Airport.
More News