Posted on November 28, 2017
Magsayo gets past resilient Japanese
By: Emmanuel B. Villaruel, The Freeman Editor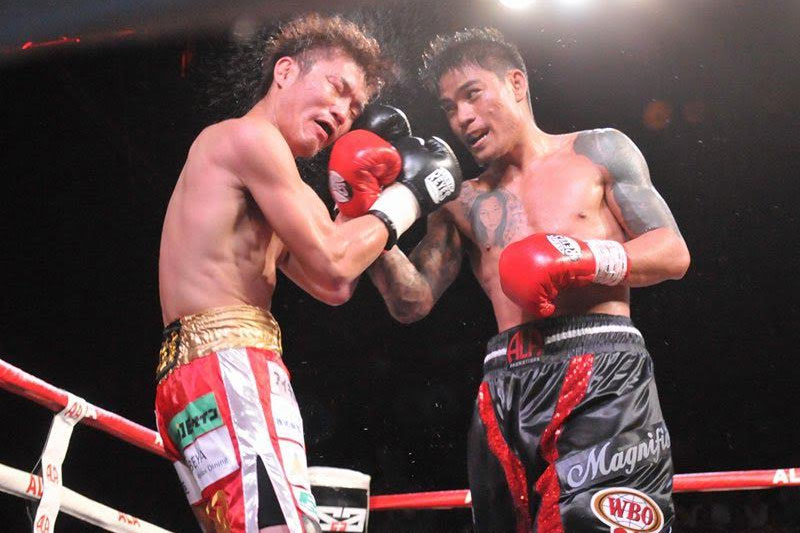 TAGBILARAN CITY, Philippines — In a classic bell to bell brawl that thrilled the spectators to the bones from the start until the end, ALA Gym's undefeated star Mark 'Magnifico' Magsayo showed true grit in overcoming the resilient Japanese challenger Shota Hayashi to retain his WBO International featherweight crown with a well-deserved unanimous victory in the main event of the "Pinoy Pride 43:Battle in Bohol" last Saturday at the full-packed Bohol Wisdom School gymnasium here.
There were no knockdowns all throughout the no-holds-barred skirmish but the courage and big fighting heart shown by the valiant ring gladiators merited a standing ovation matched with a big round of applause from a very appreciate fans at the final bell.
After setting the early pace, Magsayo heightened his attack in rounds three and four where he turned Hayashi into a virtual punching bag. He landed an assortment of punches at will – from solid body shots to crisp jabs and punishing head combos, but the iron-chinned Japanese gamely took them all.
Hayashi  was never in big trouble despite Magsayo's heavy bombardments on all range.
Magsayo continued to pound on Hayashi the rest of the way but Hayashi showed great will to survive, even tagging the undefeated ALA Gym star with head shots in the fifth and sixth round that were his best moments.
In the last three rounds, both Magsayo and Hayashi seemed to have lost steam and no longer have decisive punches to fire but still drew the adulation of the crowd as they stayed within each other's reach and figured in a heated exchange of blows at all times to the delight of the crowd.
When the dust settled, all three judges posted uniform scores of 116-112 for Magsayo, who stretched his unbeaten record to 18-0 spiked with 13KOs.
"I really had a hard time against him (Hayashi). I did not expect him to be that tough," said Magsayo, who showcased his fistic skills before his townmates for only the second time, the first was when he knocked out Ernest Tata Fontanilla on July 26, 2014 at the Island City Mall. "But I gave my all because there's no way he would take my belt away before my hometown fans."
Asked if he's ready for a world title shot, Magsayo quickly fired back:"It all depends on my promoter. But I'm ready whether it's an eliminator or a world title fight."
ALA Promotions President and CEO Michael P. Aldeguer spoke highly of Magsayo's performance but he felt deep within that his prized ward is not yet ready for the bigtime.
"The pressure is always there to fight for a world title," said Aldeguer. "But he will give him more time to mature. There's no need to rush. At this point, he's not yet ready for a world title fight."
Magsayo is currently ranked No.2 in the WBO 122-pound division currently ruled by Mexico's Oscar Valdez. Standing in Magsayo's way to challenge Valdez is the Latin-American top contender Joseph Diaz, Jr.
"If pressed for time, we'll grab it," said Aldeguer on the possibility of Magsayo figuring in an elimination bout with Diaz for the right to face Valdez in the future.  "If opportunity comes, we'll go for it. He (Magsayo) has the heart, he has the skill, he has a chance. After this fight, he will learn from it."
ALA chief trainer Edito Villamor echoed Aldeguer's sentiments, saying that Magsayo still has to improve on several facets of his game.
He has nothing but praise though for Magsayo in overcoming the resilient Japanese.
"Hayashi was very tough, but Magsayo showed a lot of heart. I'm happy that the bout lasted the full 12 rounds because it was a good experience for him.His ability was really put to a test by the Japanese."
"I must admit though that he's not yet ready for a title fight at this stage of his career. He needs more fights. He still has to learn from his mistakes and improve on his skills," said Villamor.
In the supporting main event, the resurgent ALA standout 'Prince' Albert Pagara hardly broke out a sweat in pulling off a smashing knockout win over Tanzania's Mohammed Kambuluta with only 24 seconds left in the opening round.
Before that, super bantamweight prospect Jeo "Santino'" Santisima needed only 36 seconds to stop Kiching Kim, the visiting Indon fighter so hapless that he even failed to throw a single punch before he suddenly sprawled on the canvas after being hit by a solid body shot. (FREEMAN)
More News