Posted on November 22, 2017
Hayashi banks on experience over undefeated Magsayo
PhilBoxing.com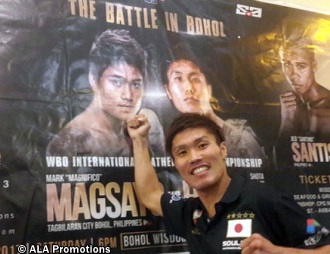 Tagbilaran, Bohol – Not a full day after team Hayashi's arrival in Bohol, veteran and former Japanese featherweight champion Shota Hayashi (36-6-1, 18KOs) graced Tuesday morning's press gathering with the local media at Abi's Seafoods and Grill.

Hayashi, along with his whole team including manager/trainer Hatanaka Kiyoshi, arrived on Monday afternoon ahead of his championship fight against Tagbilaran-native Mark "Magnifico" Magsayo.
The Magsayo-Hayashi bout headlines ALA Promotions' Pinoy Pride 43 dubbed "The Battle in Bohol" this Saturday, November 25th at the Bohol Wisdom Gymnasium.
During the gathering, Haysahi disclosed he is confident of his experience over Magsayo, saying, "(I) was fighting since I was 16 years old, so I've been here longer than Magsayo. My performance on Saturday will show everyone how much I've learned throughout the years."
Hayashi, who is turning 30 years old this Friday in time for the fight's weigh-in, added this is his make-or-break fight, telling the media he will retire as a fighter if he loses against Magsayo.
Other than answering the "safe" questions from the media, Hayashi and his team didn't reveal much about how they prepared for the fight and what they specifically focused in on training considering Magsayo as Hayashi's first Filipino opponent.
Manager/trainer Hatanaka, however, shared Hayashi has had the chance of sparring with former Filipino ALA boxer and now Japan-based Genesis Servania, who recently challenged and lost to WBO world featherweight champion Oscar Valdez last September.
Current WBO light flyweight world champion Kosei Tanaka is also in town and was present during the gathering to support his fellow Japanese fighter.
Hayashi, along with the other Pinoy Pride 43 foreign opponents of Albert Pagara and Jeo Santisima – Tanzanian Mohammed Kambuluta and Indonesian Kichang Kim – will give Boholanos a sneak peek of what's about to go down this weekend in a Public Workout scheduled on Wednesday at 5pm in Alturas Mall.
Photo: Shota Hayashi puts his fist at Mark Magsayo's photo as he faced the local media in Bohol Tuesday. Hayashi, from Japan, will challenge Magsayo's WBO International featherweight title this Saturday in Bohol.
More News