Posted on September 14, 2017
NIETES TO DEFEND TITLE AGAINST REVECO OF ARGENTINA; RUNGVISAI FROM RAGS TO RICHES
By Maloney L. Samaco
PhilBoxing.com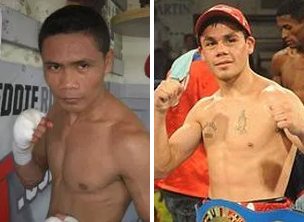 Donnie Nietes (40-1-4, 22 KOs) has his next opponent now known after Juan Carlos Reveco (39-3, 19 KOs) won over Komgrich Nantapech by unanimous decision last Friday in Argentina. The victory gave Reveco the chance to become the mandatory challenger for the IBF flyweight title, which Nietes won last April when he defeated Nantapech in Cebu City. The 34-year-old Reveco is a former WBA flyweight titleholder. He was very aggressive and mobile during the clash with the Thai opponent, winning by the scores of 120-108,118-110 and 117-111.

* * *
ALA Promotions CEO Michael Aldeguer was surprised to see Nantapech fighting again in a world title eliminator immediatetly after the loss to Nietes. But they have to focus their preparations now on Reveco. "With Reveco winning, it's going to be an exciting fight with Nietes," said Aldeguer of Nietes' mandatory defense against Reveco of Argentina as told by Rappler.
* * *
Asked as to the date and place of the fight, Aldeguer replied: "We are looking at late October or November. We are open to fighting anywhere." Trainer Edito Villamor says Nietes is well prepared has been diligently training since July and has been sparring since the second week of August. "This is a great fight for Donnie," said Villamor.
* * *
Reveco's notable wins include Ricardo Nunez by technical decision and Felix Alvarado by unanimous decision, but he lost to Kazuto Ioka in Japan 2015 by majority decision He fought Ioka again later that year and lost by 11th round technical knockout in a tightly fought contest and has won 3 straight bouts by decision since that loss.
* * *
Nanapetch absorbed his second career defeat in a row, after suffering a loss to Nietes. Reveco turned professional in 2004 and in June 2007, he knocked out undefeated fellow Thai Nethra Sasiprapa to capture the vacant WBA light flyweight title, but lost the title in his first defense to Brahim Asloum of France on December 8, 2007.
* * *
He won the vacant WBA interim light flyweight title on December 18, 2009 against Colombian Ronald Barrera, and was later promoted to full champion. In February 2011, he vacated his light flyweight title in order to campaign and be ranked in the flyweight division.
* * *
It was a brutal knockout suffered by Roman "Chocolatito" Gonzalez (46-2-1, 38KO) , who fell down from a very sharp right hand of Srisaket Sor Rungvisai (44-4-1, 40KO) in the second knockdown of round 4. Rungvisai trounced Gonzalez in the first 3 rounds of the fight. Rungvisai is just too hefty and has power blows that battered a smaller foe in Gonzalez. Recovering from two successive defeats from one single opponent will be a tall order for "Chocolatito."
* * *
For Gonzalez to make a come back is to move down to where he belong, the flyweight or lightflyweight division. He goes up in weight for bigger paydays but he paid dearly for it. Rungvisai is now the king of the superflyweight dividion. Naoya Inoue is moving up to bantamweight and he is not going to fight Rungvisai. Possibly he wants to preserve his unbeaten streak.
* * *
However, it is Inoue who is talking about moving out of the superflyweight division. He would have wanted to fight Gonzalez if the Nicaraguan won the fight. Now that Gonzalez has lost, it seems like Inoue is not going to face Rungvisai. He would want to move to the bantamweight class without first fighting the Thai champion.
* * *
Rungvisai is now considered the newest star in boxing taking the place of "Chocolatito." His last two wins over Gonzalez were more sensational victories than Inoue's last two wins over Antonio Nieves and Ricardo Rodriguez. Nieves was beaten in his last fight before facing and losing to Inoue.
* * *
"I was very confident before I got in the ring that I would win," Ringvisai told Fighthub. "I knew after the first fight that I would win again. Yes, I would like to fight in the U.S as much as possible. I'm starting to feel like this is my second home," said Rungvisai.
* * *
Rungvisai's last defeat was at the hands of Carlos Cuadras, a technical decision loss. Cuadras suffered a cut in the 8th round, mandating the fight to be decided by the scorecards. Rungvisai was beginning to rally at the time. The cut was the incident that saved Cuadras who was already tired. If Cuadras and Rungvisai were to fight today, there's a great possibility that Cuadras would be knocked out.
* * *
According to Corey Erdman of BoxingScene seventeen years ago, Srisaket Sor Rungvisai and his girlfriend hid in a storage wagon in a travel to Bangkok. Without any money, Sor Rungvisai, born Wisaksil Wangek, as a 13 year old street kid walked 60 miles to a grocery store, where he was hired to pick up trash. The pay was too small but he was able to scavenge left overs to eat. When holidays come and he was paid five extra cents he and his lover would buy a pack of instant noodles and he would drink the broth, and she would eat the noodles.
* * *
Despite his starvation Rungvisai joined a gym and began a career in boxing. He started with a 1-3-1 record of his pro career but it didn't stop him from dreaming that someday he would no longer be humiliated by eating what other people have disposed of, and would later become a known citizen of the country.
* * *
All those hardships were things of the past as Erdnan described Rungvisai: "Those 60 mile walks to work have turned to daily 13 mile training runs, and he's flying first-class to Los Angeles, he's shaking hands with the Prime Minister of Thailand, he's a world champion, and now he's beaten Roman Gonzalez, one of the best fighters in the world, twice."
More News