Posted on September 14, 2017
MILAN MELINDO VS. HEKKIE BUDLER WAR OF WORDS; GGG VS. CANELO EPIC BATTLE
By Maloney L. Samaco
PhilBoxing.com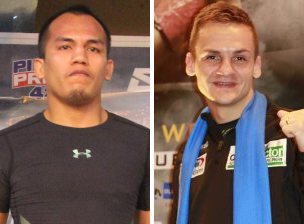 South African Hekkie Budler (31-2,10 KOs) together with his trainer Colin Nathan arrived Cebu City to challenge current IBF champion Milan Melindo (36-2,13 KOs). "We're going there to win, end of the story," said Nathan as quoted by BoxingScene. "We see a fighter who is very strong, very proud, and won't give up his championship easily. But he can be beaten, and Hekkie is the guy to do it," he added referring to Melindo that he could be defeated.


* * *
Nathan is extremely confident that Budler has the expertise and the game plan to prevail against a resilient and experienced boxer in Melindo who never lost a fight in the Philipines. "We have a solid game plan, or two or three. Melindo hits harder than his record suggests, but Hekkie is fit, strong and willing. Nothing scares him," added Nathan.
* * *
"I feel no pressure for this fight." Melindo said. "No matter how many fights he's had, he's never fought anyone like me." The 29-year old Melindo is fresh from possibly the biggest win of his career, a first-round knockout win over Japan's Akira Yaegashi to win the IBF world flyweight title.
* * *
Nathan thinks Melindo's camp chose Budler because he has established a name and all the boxers in the Filipino's record, no big name fighter stands out. "Presumably they've looked at Hekkie's last few fights and feel they can win. But it's a mistake," said Nathan. "They want his scalp, but Hekkie has too much. He's in his prime and up for the big fights like this one."
* * *
"I have all the respect for Melindo, he's a great fighter but I trained extremely for him, I come here ready," said Budler in a press conference when he arrived in Cebu 13 days before the fight. "If you're inside the ring already it doesn't matter where you fight. I've fought six times outside my country and it was always tough, but I enjoy these kind of fights," said Budler of Melindo's home advantage as told to SunStar Cebu.
* * *
Melindo is not afraid of Budler's championship threat, because he has faced fierce competition in his past fights was quoted by ABS-CBN. "I've already fought some of the best world champions in the world, including Juan Francisco Estrada, so he is no threat to me."
* * *
Budler was asked of a knockout, he replied that one punch can affect the whole fight and it can happen to either fighter. "Melindo is the type of boxer whom you can't see a weakness but I am in a best shape. I can even go for 20 rounds. The knockout is also a possibility because one punch can change everything," said Budler.
* * *
While Melindo has no real track record of knockouts, his very impressive win over Yaegashi in Japan shows that the ALA Gym stalwart has the power to stop his opponents by KO. In his 33 fights, Budler has never tasted a knockout, but Melindo strives to score one. "I advise him not to put his guard down, because then I might give him the first KO defeat of his career."
* * *
"I wanna make this clear, we did not come here on a holiday, we came here for one thing… and that is to win the world title. We are very confident that we've done our homework, our research, and on Sept. 16 we will definitely bring the title back to South Africa" said Nathan.
* * *
The 29-year old Budler has defeated five Filipino boxers in his career and has come to the Philippines with a target of making Melindo victim No. 6. "We come here earlier to acclimatize accordingly, to get off the jet lag which is very difficult and we want to adapt to the sea level since we trained in high altitude in Johannesburg," said Nathan. Budler said that it's a tough task to fight outside of his country but it will not be a factor come fight time.
* * *
After winning the title in hostile Japanese territory, Melindo will defend his IBF light flyweight title for the first time and it will be on the Philippine home soil and promises to keep the title belt. "We're going to fight in my territory, where I will run the show and I promise an impressive win." The nation is hoping and praying he won't fail his countrymen and preserve the title belt in the hands of a Filipino champion.
* * *
Fight Week for the classic match, an epic battle every boxing fan would like to see will finally happen. Boxing world's superhero and undefeated WBC/WBA/IBF/IBO middleweight world champion Gennady "GGG" Golovkin and lineal and The Ring magazine middleweight world champion and Mexican idol Saul "Canelo" Alvarez are about to clash.
* * *
Golovkin (37-0, 33 KOs), who has been middleweight champion since 2010, will make his 19th consecutive title defense, one short of the all-time record, against lineal and The Ring middleweight world champion and Mexican icon Alvarez (49-1-1, 34 KOs). Canelo vs. Golovkin is the much anticipated showdown to determine supremacy of the storied middleweight division and arguably the pound-for-pound rankings.
* * *
"I have trained a lot of fighters. A lot. But I have never worked with one who was avoided more than Gennady," said trainer Abel Sanchez as quoted by Boxing Scene. "The special fighters accept challenges or dare to step up and make the challenge. It's the measure of the man. It is the difference between good and great."
* * *
Sanchez added that great fighters risked to be tested at the highest level of competition: "Ali stepped up against Liston. Leonard stepped up against Hagler. Holyfield stepped up against Tyson. These are fights and fighters that will always be remembered because they dared to be tested at the highest level regardless of risk. Now, at last, we have Gennady against Canelo, a real Mexican fight. I give Canelo credit because he has always wanted this fight. I am relieved that his promoter finally had the confidence to make it."
* * *
The Nevada State Athletic Commission announced the officials for the Canelo Alvarez-Gennady Golovkin fight. The NSAC approved Nevada's Adalaide Byrd, Nevada's Dave Moretti and Connecticut's Don Trella as the judges for the IBF, IBO and WBA middleweight title fights Saturday night at T-Mobile Arena. The NSAC also assigned Nevada veteran Kenny Bayless as the referee for this HBO pay-per-view main event.

More News