Posted on September 18, 2017
MELINDO FIGHTS LIKE A WOUNDED TIGER TO RETAIN IBF TITLE
By Maloney L. Samaco
PhilBoxing.com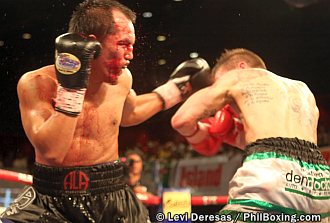 Milan "El Metodico" Melindo fought ferociously with blood cascading through both eyes due to cuts and like a wounded tiger waged war on Hekkie Budler to successfully defend his IBF junior flyweight title last night at Cebu Waterfront Hotel and Casino. He did not show any sign of wear due to excess weight reduction but the tear in his gashes really affected his sight. Glenn Trowbridge had it 115-112 and Takeo Harada 117-110 for Melindo however Carl Zappia scored 115-113 for Budler for a split decision in favor of the ALA Gym standout.

* * *
Melindo (37-2, 13 KOs), the pride of Cagayan de Oro, got the better start dishing out stronger combinations and connecting with the cleaner punches in the first three rounds. But Budler (31-3, 10KOs) the challenger from Johannesburg, South Africa unleashed his stronger jabs and booming right straight punches on the champion in the fourth canto.
* * *
Melindo came back in the fifth round but suffered his first cut in the sixth above his left eyebrow due to a headbutt. This made Melindo's view of Budler's punches more difficult before another cut was inflected in the tenth due to a punch. With both eyes burning with blood dripping from thr wounds, Melindo floored Budler in the 12th round but was able to beat the count.
* * *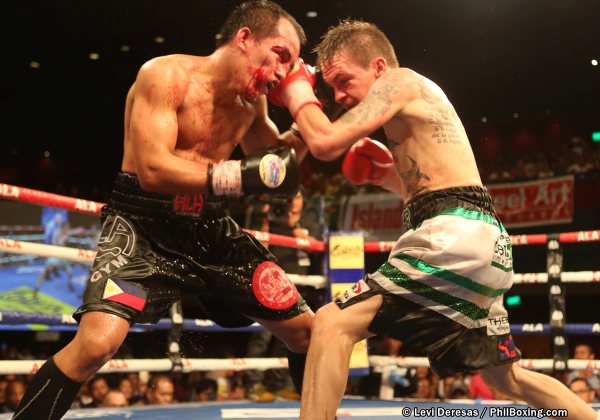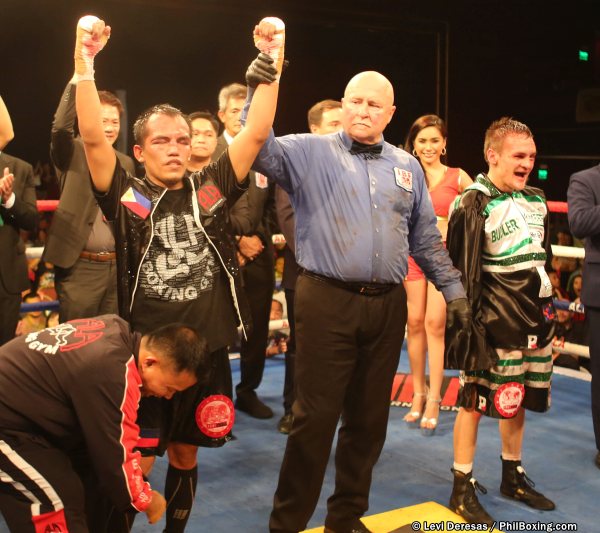 "I think I'm gonna finish him but Budler has a strength to continue the fight," said Melindo as quoted by Rappler. "I planned to box him, I planned to make him go forward so that I can counterpunch him. He thinks that I can't see because I have two cuts and the blood is running in my eyes so he thinks I cannot see his punches." He added that he could still see even if his eyes were drained. "I see a little bit only because the blood is running in my eyes. Then the color is yellow," said Melindo.
* * *
Budler's camp was not satisfied with the decision and accused the judges as bias. His manager Rodney Berman called the result "blatant robbery" and the officiating "pathetic" and the judging "a disgrace" on Twitter. Others also demanded a rematch which should be held elsewhere and not in the Philippines according to some supporters of the South African.
* * *
Jason Pagara (41-2-1, 25 KOs) had his long layoff affecting his fight as he salvaged a split draw against James Onyango (23-11-2, 19 KOs). It seemed that the co-main event would be finished eatly as Pagara started strong and knock the Kenyan down in the second and fifth rounds. But an exhausted Pagara could not defend himself well against Onyango's offensive. The scores were 94-94 draw on one judge, the other one saw it 94-93 for Onyango, and the third had it 95-93 for Pagara.
* * *
In the 6th round onward, Onyango, a late replacement, refused to buckle down and dictated the tempo of the fight and battered El Niño with stinging left and right combinations targetting the near defenseless Pagara almost at will. In the 8th round, a cut was inflected at Pagara's left eyebrow which compounded his woes until the fight ended. Pagara was never down though and stayed until the end of the bout. Before this encounter, his last fight was on November 2016 yet, a first round KO of Jose Alfaro of Nicaragua.
* * *
It was reported that Jason was overweight and has not practiced religiously during the long rest. A tune up fight would have been useful for him to keep the CDO fighter busy and trim. Ten months of inactivity took its toll and his ranking sled from WBO No. 1 to WBO No. 3 light welterweight contender. With the moving up of Terence Crawford to the welterweight division, he would have been one of the contenders for the title. But the mediocre performance could jeopardize his world championship aspirations. But all is not lost for the elder Pagara to carefully chart the course of his career.
* * *
Jonas Sultan (14 -3, 9 KOs) scored an upset over former two-time world champion Johnriel Casimero (24-4-0, 15KOs) with a unanimous decision win before the cheering full-packed crowd. The judges' scores are Glenn Trowbridge 116-112, Takeo Harada 117-111 and Carl Zappia 115-113 all for Sultan, the ALA Gym fighter. Sultan dominated the early rounds as Casimero studied his. In the fifth stanza, a solid combination unleashed by Sultan rocked the former champion.
* * *
Casimero made his real power moves in the 6th round and connected some of his straights on Sultan. Casimero continued his vaunted offense in the following rounds as Sultan also took an excellent defensive and counterpunching stance to evade Casimero's solid punches. The Ormoc City native tried to score a KO in the final round sensing that he was behind on points, but the Zamboanga del Norte fighter finished the bout on his feet.
* * *
Casimero now has to start all over again with the dream of a third world title in the super flyweight division being snapped by Sultan. Zorro will become part of history when he faces Jerwin Ancajas for the IBF superflyweight championship. If the Ancajas-Sultan tiff pushes through, it will be the first All-Filipino world title fight in 92 years. Meanwhile, Casimero has to evaluate his next step in order to be back on the championship track.
More News