Posted on September 14, 2017
IBF World Title Eliminator that Promises Fireworks: Casimero vs Sultan This Saturday @ the Waterfront on Pinoy Pride 42
By Carlos Costa
PhilBoxing.com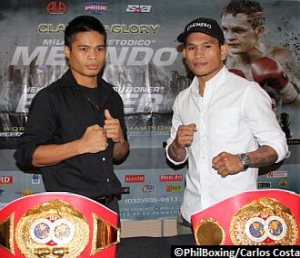 CEBU CITY, Philippines — Pinoy Pride 42: Clash for Glory this Saturday at the Waterfront Hotel & Casino has just got better with the inclusion of the IBF World Title Eliminator between world-ranked Filipino super flyweights: former 2-division world champion Jhonriel "Quadro Alas" Casimero (24-3, 15 KO's) against promising, hard-hitting, well-trained ALA fighter "Zorro" Jonas Sultan (13-3, 9 KO's), with the winner booking himself to challenge Filipino IBF Super Flyweight World Champion Jerwin "Pretty Boy" Ancajas for the World Title, and the presscon announcing the Casimero-Sultan showdown took place today at St. Mark's Hotel in Cebu City.

The 12-rounder sets the stage for the victorious one to challenge Ancajas, an All-Pinoy world title clash that would get into boxing history books as only the second time that two Filipinos compete for a world title in professional boxing, a rare occurrence that proves the sounding presence Pinoy boxing in the world stage; and both, Casimero and Sultan aim at taking full advantage of the excellent opportunity given.
For boxing history lovers, the one and only time that two Pinoys has battled for a world title in boxing was when legendary Filipino Hall-of-Famer Pancho Villa defended his Flyweight World crown against fellow Filipino warrior Clever Sencio at Wallace Field in Manila in May of 1925. It was a 15-round points victory for Pancho Villa, a man destined to become one of the greatest flyweights ever.
Fast-foward 92 years and the stars are aligning themselves again for a historic fight to happen again.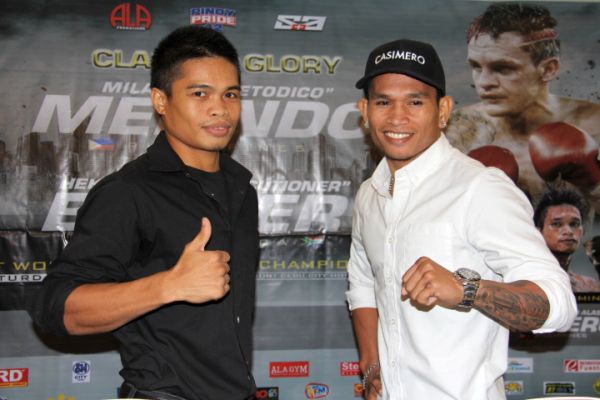 CASIMERO VS SULTAN: THE VICTORIOUS MOVES FORWARD
The proven Jhonriel Casimero, 27, a victorious warrior of a thousand battles behind enemy lines and already a world champion in two weight classes, faces Jonas Sultan, 25, who wants to prove himself against a tough, well-tested man of multiple fighting resources who doubles his ring experience.
And none of them plan to let the golden chance go away.
So who will win?
For veteran, respected man of boxing Sammy G. Gello-Ani, who is Casimero's co-promoter, the tough fight is not only going to be part of history, but also the perfect scenario for the two young boxers to prove themselves in the super flyweight division, a weight class rich with stellar names and endless talent.
"At this moment, I can not imagine of anything better for each boxer. This fight comes at the perfect time for both. The winner puts his name in the package and will be up to great things," commented Gello-Ani today during Pinoy Pride 42 presser today at St.Mark's Hotel.
"Casimero has fought all over the world and Jonas Sultan has also done his share of fighting and winning overseas.
"Sultan has won in South Africa and in Japan and that to me is a big deal. It is important. Both are good boxers who want to move their careers forward. None of them want to lose. It's going to be a really great fight," added Gello-Ani, who would like to see his boxer Casimero against Ancajas, though that remains to be seen.


Casimero's promoter Sammy Gello-ani talks to the media.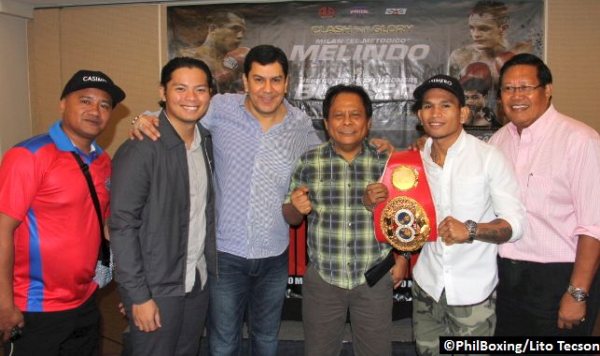 L to R: Casimero coach Jun Agravio, Aldrin of Team Casimer, Boxing writer Carlos Costa, PhilBoxing Director Dong Secuya Casimero and Cebu promoter Sammy Gello-ani.
That said, fans wonder and debate who will prevail Saturday. Will it be the well-tested Casimero, experienced and superbly confident?
Or will it be the up-and-coming Jonas Sultan who is not afraid of any man in the right, but who has never fought anyone like Casimero?
Knowing that the winner would most likely face Jerwin Ancajas for the IBF Super Flyweight World Title, who will he be?
Amigos, there is only one way to know.
Tickets for Pinoy Pride: Clash For Glory are available at all ALA Gym Boxing Fitness branches, selected RD Pawnshops branches, Ayala Concierge Booth, First 5 Sports Lounge & Cafe, Waterfront Cebu City Hotel & Casino and ALA Promotions Office.
Ticket prices range from 5,000 pesos for VIP ringside in first row…. to 300 pesos for balcony free-seating general admission
Pinoy Pride 42 Melindo vs Budler in "Clash for Glory" is a production of ALA Sports Promotions International.
The author Carlos Costa of Panama is a boxing writer, reporter and photographer based in Cebu, Philippines. For all boxing things you can contact Carlos at email carlos512@hotmail.com, in Facebook or to his cp # 09184538152. "All For the love of Boxing."
More News