Posted on September 21, 2017
Biggest upset in Philippines boxing
BY: THE FREEMAN CEBU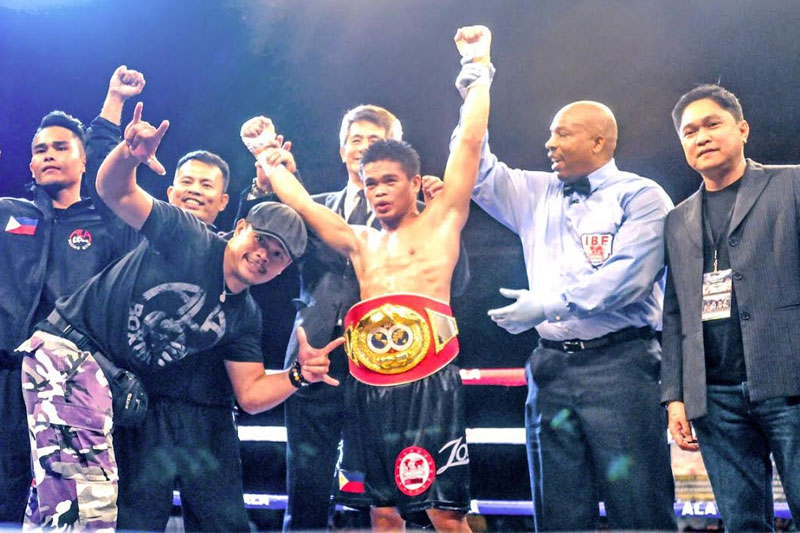 CEBU, Philippines — The spotlight wasn't focused exactly on Jonas Sultan (14-3, 9KOs) after his monumental upset of two-division world champion Johnriel "Quadro Alas" Casimero (24-4, 15KOs) five days ago.
Except for the few applause from fans, the gallant boxer nicknamed 'Zorro' didn't get much attention he richly deserves out of his stunning win against a heavily favored foe.
That is understandably though because win or lose, the biggest credit in a boxing card usually goes to the main fighter.
In the case of Sultan, his resounding triumph was somehow overshadowed by his more prominent stablemate Milan 'El Metodico' Melindo, who fought to a bloody and brutal 12-round split decision victory over IBO champ Hekkie 'The Hexexcutioner' Budler to keep his IBF light flyweight belt in last Saturday's 'Pinoy Pride 42:Cash for Glory' at the Waterfront Cebu City Hotel & Casino.
But for Cebuano Sports Hall of Famer Antonio 'Bidoy' L. Aldeguer, Sultan's victory should not be left unnoticed because it is one for the books.
A 'walking encyclopedia' of boxing who knows the sport from A to Z, Aldeguer propounded that what Sultan has achieved will go down in history as the bigget upset in Philippine boxing.
"Nothing much have been said of the big upset of Sultan's lopsided win against Casimero. That thing I believe is one of the biggest upsets in Philippine boxing history. Imagine a 2-weight division champion with a credible KO record being stunned by an unheralded 14 fight record with 3 losses of Jonas Sultan," said Aldeguer, the acknowledged 'Godfather of Cebu boxing."
Going into the bout, some quarters did not give Sultan a Chinaman's chance against Casimero but the ALA mainstay ended up with an earth-shaking performance.
The 25-year-old Sultan hammered his way to a resounding unanimous decision triumph over Casimero in their elimination bout that earned him a mandatory shot at IBF super flyweight champion Jerwin Ancajas. The official scores were 116-112, 117-111, and 115-113.
Sultan just enjoyed his moment of glory in quiet dignity and grace.
"Positive lang gyud ko sa akong huna-huna nga makaya nako siya madaog (I just keep a positive mindset that I'm going to beat him)," said the pride of Zamboanga del Norte. "Ang nakapadaog nako atong awaya mao ang akong kaabtik ug paspas nga suntok. Dili pa siya kaporma, igo na siya (My quickness and speed made me won the fight. I already hit him even before he can make a move)."
Sultan said he loves to fight as the underdog because it always bring the best out of him.
"Mas nindot manang akoy underdog sa dula kay aron maipakita nako sa mga tawo nga kaya nako ang mga lig-on (It's good thing that I'm the underdog so that I can show to the people that I can take down the stronger ones),"said Sultan.
Asked if Ancajas is now in his radar in what could be an unprecedented all-Filipino world championship match in nearly a century, Sultan said the decision is all up to his management team. But if he is to decide, he would politely do away with it and instead look for probable foes abroad who want to taste the fury of his punches other than his fellow countryman. (FREEMAN)
More News