Posted on January 19, 2017
WBC world title challenger Jerusalem leaves for Thailand
By: Philboxing.com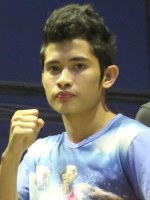 WBC #9 and world Minimumweight title challenger Melvin Jerusalem leaves the country on Friday, January 20, with coaches Edito Villamor and Michael Domingo.


After months of training, Jerusalem feels confident going into the first title fight of his young career.
Undefeated with 11 wins, the young Jerusalem is scheduled to take on world champion Wanheng Menayothin. The defending champion also has an undefeated record of 44-0 and is now on his 5th title defense. Menayothin has held three other WBC titles since 2007. Both Jerusalem and Menayothin has fought and won over Filipino champions Florante Condes and Jonathan Refugio.
While the fight with Jerusalem could be just another one Menayothin hopes to add to his record since the beginning of his flawless career, it's a once in a lifetime chance a promising young fighter, eager to make a name of his own, like Jerusalem has dreamed of his whole life. A win over the veteran would open more opportunities the Filipino only hoped before the offer came knocking at his door late last year.
Dedicating the most important fight of his career to his late father, Jerusalem promises to do his best and fight as long as he still can, saying "his support inspires me" and that he (Melvin's father) "would have loved to see my first title fight for my first fight abroad". Jerusalem added, "this is a lot of firsts for my career, and I wish he was around to see me. I guess this time he can watch me from heaven."
The fight is set next Wednesday, January 25 in Phitsanulok, Thailand.
More News