Posted on January 17, 2017
Jerusalem Eyes Big Opportunity In 2017
BY: Derek Bonnett, SecondsOut.Com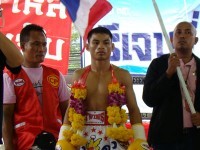 Twenty-two year old prospect Melvin Jerusalem of Philippines with travel to Phitsanulok, Thailand to try for his first world championship against reigning titlist Wanheng Menayothin. Menayothin, 31, far more experienced at the world class level than his neophyte challenger, will be making his sixth defense of the WBC minimumweight belt he won back in 2014 with a stoppage of Oswaldo Novoa.
Jerusalem, a native of Cebu City, Cebu, turned professional in 2014 just a few months before Menayothin, 44-0-0 (17), won his world title. Just last February, Jerusalem defeated his first former world champion in Florante Condes, whom he topped by majority decision. Menayothin also owns a win over Condes. In fact, champion and challenger share three common opponents of interest. In terms of significance, both went the distance with Condes.
"The most challenging fight for me has been when I faced former world champion Florante Condes," Jerusalem attested. "He is a very good boxer. I learned a big lesson in this fight. [That is to] be in good condition and focused and to listen to what my coaches are saying."
Jerusalem attributes this victory inside the ring to his fighting spirit. He believes his style is determined purely by the opponent which he faces and did not classify himself as either boxer or puncher. ALA Boxing Gym trainer described Jerusalem as an awkward fighter with good control over distance. Jerusalem trains under one-time contender Michael Domingo.
Crison Omayao also faced both men, losing on points to Menayothin and falling in two round to Jerusalem. Jonathon Refugio was TKO'd by Menayothin in nine rounds, but lasted the distance with Jerusalem in July of last year. "Gringo", as Jerusalem is known in the ring, at the very least is being brought up the right way.
Last month, boxing fans witnessed, another bright prospect, Stamp Kiatniwat's title try against Kazuto Ioka. After dropping the champion early, Kiatniwat was overpowered by the Japanese champion and worked over to the body. Yet, the nineteen year old boxer acquitted himself well and showed promise of a brighter future. Jerusalem may be in a similar situation, but will not be facing a big puncher like Ioka. In Menayothin, Jerusalem will face a busy, technical boxer. His combinations work to break a fighter down progressively, not emphatically. Even still, Menayothin is sure to test the Filipino' chin at some point.
"I train hard to improve my skills in boxing because I want to be a champion like my idol Katsunari Takayama from Japan," Jerusalem stated. "It is a big opportunity I have been given and I will do everything to win this fight. I have trained harder than any other fight. I trust in God."
Sadly, Jerusalem enters the greatest challenge of his career with only the spiritual support of his own father. The young challenger dedicates this upcoming bout to the memory of his father, Bienvinido Jerusalem, who passed on June 12, 2015. The elder Jerusalem dreamed of seeing is son become a champion in the sport of boxing.
Be sure to "LIKE" the SecondsOut Facebook page.
More News