Posted on January 17, 2017
ALA SINULOG BOXING RESULTS
By: Felman Gingoyon, PhilBoxing.com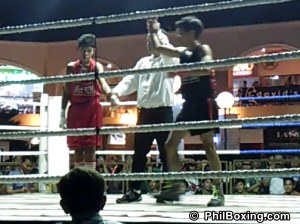 A tradition that has long been in existence once again unfolds as ALA Promotions staged a boxing event for this year's Sinulog celebration. Twelve pairs of young up-and-coming boxers from different areas in Cebu showcased their fistic talent to a sizeable crowd that showed up at the carpark of Gaisano Country Mall. A threat of heavy rainfall didn't deter the aspiring open boxing pugs to go all out for the victory as the day has seen erratic weather conditions.
John Michael Casinto of Cabancalan wins a UD against Rodel Manego of Pagsabungan in 21 kgs., Clinton Martinez of Phil-Aust Boxing Club wins over Emmanuel Galo of Lapu-Lapu City via UD, David Tugot of Talamban defeated Clinton Pongasi of Phil-Aust Boxing Club, Ryan Montrano of Bogo City wins a UD vs. Roswel Nocos of Balamban.
Fifth bout saw Christian Gabriel Gingoyon of Lapu-Lapu City/ 10,000 BC Boxing Club victorious anew against Erick Miguel Austria of Cabancalan in 38 kgs via UD, King Justy Ala Villamor of Mandaue City defeated Emerald Pishko of 10,000 BC Boxing Club via UD, Ramil Castanares of Mandaue registers the only stoppage win of the night with a TKO in the third stanza over Phil-Aust Boxing Club's Rey Abesia. A strong blow to the head puts Abesia on his back and when he tried to stand up quickly, he staggers back which prompted referee Alex Consigna to immediately call a halt to the bout.
Pomar brothers, Marvin and Marco both of UV boxing team, experienced contrasting fate as the former wins over Benny Magsayo via UD while elder brother Marco lost his bout against Alex Santisima.
John Nino Vega of Lilo-an, Cebu defeated Jim Paul Dignos of Phil-Aust Boxing Club via UD in 44 kgs. division. The bout featured boxing skills as well as clinching and holding with Vega using his height and reach advantage to outmanuever his shorter opponent. 10,000 BC Boxing Club's Berland Robles edged out Cabancalan's Patrick Gantuangco via SD while Dominique Casanares of UV boxing team defeated Mel Anthony Ando of Phil-Aust Boxing Club in 52 kgs. via UD.
Also on hand to witness the event were unbeaten Moleney twins, Andrew and Jason. Both are currently training at the ALA Boxing Gym in Talamban. The bantamweight/ junior featherweight prospects from Victoria, Australia are gearing for a tough fight against Filipino contenders Renoel Pael and Marco Demecillo, respectively in Land Down Under this February
Top photo: Christian Gabriel Gingoyon wins over Erick Miguel Austria.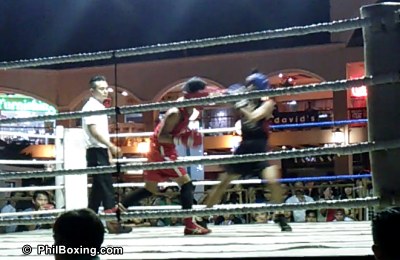 King Justy Ala Villamor throws a left against Emerald Pishko.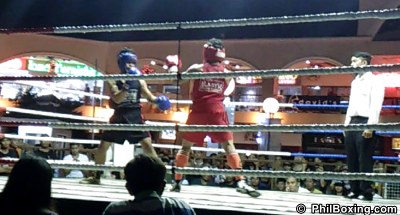 Dominique Casanares in action vs. Mel Anthony Ando .
More News