Posted on March 20, 2015
DONAIRE ELEVATED ALONGSIDE NIETES TO ELORDE HALL OF FAME
DONAIRE ELEVATED ALONGSIDE NIETES TO ELORDE HALL OF FAME
By Ronnie Nathanielsz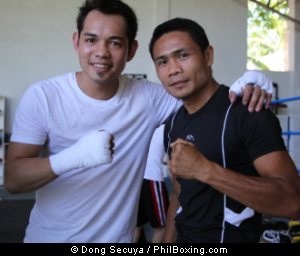 Five division world champion Nonito "The Filipino Flash" Donaire has been elevated to the Class of 2014 Elorde Hall of Fame alongside WBO light flyweight champion Donnie "Ahas" Nietes, the longest reigning Filipino world champion who last January 1 surpassed the record of world junior lightweight champion Gabriel "Flash" Elorde who reigned for 7 years and 3 months.
Nietes and Donaire will be enshrined in the prestigious "Flash" Elorde Hall of Fame where the first honoree was eight division world champion Manny Pacquiao.

The glittering affair which marks the 15th staging of the Annual Awards and Banquet of Champions on the 80th birth anniversary of Elorde will also see IBF light flyweight Interim champion Randy "Razor" Petalcorin and IBO light flyweight champion Rey Loreto receive the award for "Boxer of the Year".
ALA Promotions youthful president Michael Aldeguer will once again be honored as the "Promoter of the Year" while Edmund Villamor from the famed ALA Gym will receive the award for "Trainer of the Year."
Unbeaten IBF Intercontinental super bantamweight champion Prince Albert Pagara who will see action along with Nietes and Donaire in the blockbuster "Pinoy Pride 30" fight card at the Smart Araneta Coliseum on March 28 has been cited as the "Most Promising Boxer."
The guest of honor and speaker will be Senator Aquilino "Koko" Pimentel who is expected to talk about the various welcome measures he is pushing in Congress for the benefit of the country's athletes.
In the meantime, Donaire who has problems making the weight for his North American Boxing Federation super bantamweight title fight against Brazil's William Prado, is reportedly getting tired as a result of his rigorous efforts to trim down from around 132 pounds.
Donaire's father/trainer "Dodong" Donaire told the News Standard/Viva Sports that Nonito was "getting tired making the weight" although he worked out at the ALA Gym and ran around the oval in the complex.
"Dodong" said Nonito also worked on then punch-mitts and the heavy bag and both he and Donaire studied tapes of Prado.
He said Prado "keeps coming forward like a bull and throws a lot of punches. When he fights Nonito he Prado will want to make a statement but we won't let that happen."
The father/trainer said his son would spar one more time on Friday before leaving for Manila to join the other headliners of ALA Promotions "Pinoy Pride 30" presented in cooperation with the giant broadcast network ABS-CBN at the Smart Araneta Coliseum which is the Philippines center of sports and entertainment.
The pre-fight press conference will be held at the plush Solaire Hotel and Casino on Thursday, March 26.
American trainer Rick Staheli who has long been an admirer of Donaire because of his remarkable skills, speed and punching power said he had received reports that Nonito was looking extremely good in his preparation for the Prado fight and he expects another impressive performance by Donaire in his comeback fight after the battering at the hands of Nicholas "The Axe Man" Walters "as long as he can make the weight without it hurting him."

More News