Posted on January 3, 2015
NIETES SURPASSES ELORDE'S LONGTIME RECORD, STEPS INTO HISTORY
NIETES SURPASSES ELORDE'S LONGTIME RECORD, STEPS INTO HISTORY
By Ronnie Nathanielsz
PhilBoxing.com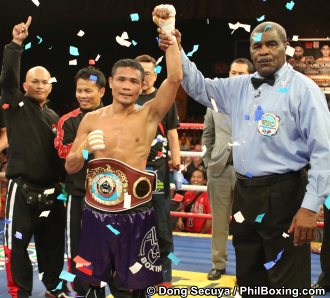 When the clock strikes twelve midnight on December 31, heralding what millions of Filipinos fervently hope will be a peaceful and prosperous New Year, a 32 year old product of a fighting boxing clan from Murcia not far from Bacolod City will most probably bow his head in prayer and thank God for the blessings bestowed upon him which will, at the dawning of January 1, see this soft-spoken champion establish a new record as the longest-reigning Filipino world boxing champion.


Donnie "Ahas" Nietes will re-write the record books as he surpasses the long-standing record of Hall-of-Famer, the late Gabriel "Flash" Elorde, one of the greatest fighters of all-time who reigned as World Boxing Council and World Boxing Association super featherweight/junior lightweight champion for 7 years and 3 months.
While Elorde remained champion in one division in an era where championship bouts were fought over 15 rounds, Nietes battled to two championships, winning the WBO minimum weight title with a tweve round unanimous decision over Thailand's Pornsawan Porpramook on September 30, 2007 and then moved up to light flyweight and captured the WBO title with a hard-fought, twelve round unanimous decision over tough Mexican Ramon Garcia Hirales at the La Salle Stadium in Bacolod City where his hometown fans gave Nietes a rousing reception.
We covered most of the fights of Nietes from his early ring career and were impressed by his skill, his courage and his dedication which reminded us so much of Elorde who was a beloved friend whose fights we covered for dzHP Radio during his lifetime.
Nietes was born into a family of boxers which included his grandfather, father, uncle and cousin in the municipality of Murcia on the outskirts of Bacolod unlike Elorde who was the youngest of sixteen born to a poor farmer's son in the rustic town of Bogo, Cebu and none of whose family took to the sport.
Nietes' first trainer was his uncle Jerson Nietes Sr. He had more than 50 fights as an amateur and continued his career as a member of the Negros Amateur Boxing Association. After completing a two year college course on a scholarship in industrial technology majoring in electronics, Nietes got a call from his uncle to work in Cebu where he applied as a maintenance/utility staff at the ALA Gym of renowned boxing patron Tony Aldeguer.
Nietes reported for work early each morning and went through his chores of brushing the ring canvas, cleaning the gym, taking care of the animals including a collection of pythons and did some gardening.
During invitational fights Nietes set up the ring in the morning and laced his gloves at night, winning a number of fights alongside stablemates AJ "Bazooka" Banal and Robert Allanic.
Aldeguer initially turned down his request to turn pro because Donnie was too thin and looked frail but he persisted until the kind-hearted Tony, touched by Nietes's dedication, gave in.
In his first fight at the age of 20, Nietes won a six round bout against Walter Suaybaguio in Pitalo, San Fernando but although he was excited over his first ring appearance Donnie was not happy about his performance and worked even harder in the gym until he captured the Philippine Boxing Federation light flyweight title with a dominating show against Joseph Villasis to win by a 1st round TKO.
Under trainer Edmund Villamor, Nietes continued his unbeaten run until he lost a hugely controversial split decision to rugged Indonesian Angky Angkota on September 28, 2004, The setback only served to ire up Nietes who worked harder than ever and was rewarded when he won the WBO minimum weight title in September 2007.
Elorde was a deeply religious person. Nietes is the same. One time he pointed out, in a soft-spoken eloquence, "there is no one else to trust except God above."
In his most compelling ring performance in a rematch with talented Mexican Moises Fuentes against whom Nietes retained his title with a majority draw on March 2, 2013, Donnie put on a classic display of innate skill, ring savvy abd punching power to annihilate Fuentes, dropping him three times in May 2014 to win by a sensational 9th round knockout that even stunned Mexican legend Marco Antonio Barrera who had predicted Fuentes would win and take the title back to Mexico.
With a comfortable win over another Mexican, Carlos "Chapito" Velarde who quit in the 7th round last November 15, Nietes stood on the threshold of surpassing Elorde's record which had stood for over 34 years.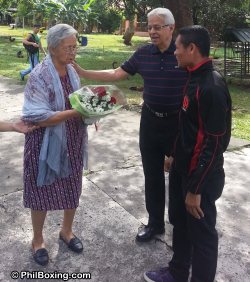 Nietes (L) together with Flash Elorde's window Laura and the author visit Elorde's tomb.
To Donnie Nietes whose humility bears a striking resemblance to that of Elorde, "Flash" was – and will always remain – his "hero and inspiration."
In a gracious gesture the widow of "Flash" Elorde, Laure Elorde, praised Nietes for being "a good abd decent Filipino champion."
Laura Elorde reminded us that "Bai" Elorde was humble in victory, magnanimous in defeat and displayed these same virtues both in and outside the ring.
Donnie Nietes in many respects is like Elorde – a simple man from humble beginnings but a true champion who has, by his success, earned the admiration of our people.
Laura concluded her congratulatory message, "to us, the members of the Elorde family, Donnie's surpassing of Elorde's record is a tribute to his skill, dedication and hard work. We are indeed proud that Baiu reigned as world champion for seven years and three months and are prouder still that a good and decent Filipino champion rose to take his place among the heroes of our time."
After his victory and deeply moved by the sentiments of Ms. Elorde, Nietes took a flight to Manila along with ALA Promotions vice president Dennis Canete and two other top fighters from the ALA Gym – Milan Melindo and Prince Albert Pagara and paid a courtesy call on Ms. Elorde at her residence along Sucat Road in Paranaque, handing the matriarch of the Elorde clan a beautiful bouquet of flowers while expressing his gratitude for her kind words.
Nietes and the group then visited the tomb of "Flash" Elorde at the Manila Memorial Park and knelt in prayer in homage to Elorde.
Gabriel "Flash" Elorde was truly a hero of our time, someone who richly deserves our remembering because for all of us the passing of the summers hasn't dimmed the cherished memories of one of the greatest Filipino champions of all-time.
As we remember Elorde we pay tribute to Donnie Nietes whose humility coupled with his skill and courage as a fighter, remind us so much of Flash Elorde, the man whose record he has surpassed but done so with utmost respect and quiet dignity.

More News