Posted on January 7, 2015
JASON PAGARA, GENESIS SERVANIA WILL BE TESTED
JASON PAGARA, GENESIS SERVANIA WILL BE TESTED
By Ronnie Nathanielsz
PhilBoxing.com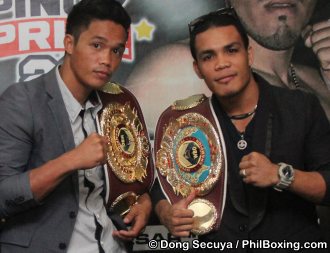 Two of the more promising boxers from the ALA Promotions stable, light welterweight Jason "El Nino" Pagara and super bantamweight Genesis "Azukal" Servania, will be tested when they face-off against tough Mexican opponents in the 29th edition of the hugely successful "Pinoy Pride" series in Davao City on February 7.

The 26 year old Pagara who has a record of 34-2 with 21 knockouts is coming off a successful fourth title defense of his WBO International title against resilient Mexican Mario Meraz, scoring a TKO with one second remaining in the 4th round when referee Danrex Tapdasan called a halt despite the fact that Meraz beat the count, raised his hands and indicated he was ready to continue last June 21,
Pagara won the title with a smashing 6th round TKO in a rematch with menacing-looking Rosbel Montoya who had won a unanimous ten round decision to grab the WBO Asia Pacific Youth title on September 10, 2011.
Pagara will battle 27 year old Cesar "El Dolar" Chavez who has a record of 23-7 with 11 knockouts.
Chavez is coming off a rousing 3rd round knockout of Javier Gallegos last October 3 and had earlier won the vacant Mexican Pacific Coast light welterweight title with a 5th round TKO of Fernando Hernandez on December 29, 2011 but lost by a 4th round knockout to Roberto Ortiz in a WBC Silver title fight on February 4, 2012.
The undefeated 23 year old Servania who has a record of 25-0 with 11 knockouts apparently faces a tougher challenge than Pagara when he battles the 32 year old "Black Pearl" Juan Luis Hernandez who sports a record of 17-3-1 with 9 knockouts.
After a layoff of more than three years Hernandez returned to the ring and scored what Mexican media described as a "difficult victory" over Pedro Palma last November 14 winning by a unanimous decision with judges Franco Esteban scoring the fight 58-56 whike Carlos Briones and Antonio Villas turned in identical scorecards of 59-56.
From the opening bell Palma came with everything in search of victory and three punches from all angles while Hernandez connected with far more effective punches.
In a clash for the WBC International super flyweight title, Hernandez engaged Carlos Rueda in an epic ring war that was considered Tijuana's "Fight of the Year" in which the "Black Pearl" dropped Rueda twice in round two but was himself dropped in round seven and lost by TKO.
Boxing writer Felipe Leon of Fight News reported that with Box Latino and PM Promotions planning for a rematch, Hernandez was matched against Alejandro "Timon" Martinez (12-1-1, 8 KO's) of Puerto Rico.
Leon said Martinez "began the bout relaxed and quicker to the punch as he counter punched Tijuana's Hernandez easily developing a mouse under the right of Hernandez by the end of the first stanza. Hernandez took control in the second as he attacked the body trying to slow down the come forward style of Martinez. Near the end of the round, Hernandez lands a right hand that gets Martinez's attention and "Perla Negra" tries to finish the night early attacking furiously until the bell but to no avail. Hernandez begins to slug it out in the third hoping "Timon" had not recouped from the last round. Martinez begins to box as he tries to keep the attacking Hernandez at bay. By mid round, Hernandez hurts Martinez again and speeds up his assault but only to leave himself open for a left hook that makes his knees buckle. In the third round, Hernandez slowed down considerably as he began to breathe thru his mouth."
In its continuing description of the fight Felipe Leon reported "The fight moved to the center of the ring for round four as both fighters were content to make it a phone booth war and began to exchange upper cut from either fist. Hernandez seemed to have the upper hand. Hernandez began to box for the beginning of round five, using the ring and moving around its perimeter. Despite Martinez not being as skillful on the inside as Hernandez, standing awkwardly at close range, "Timon" decided to force the action once again to the proverbial phone booth and attacked the body of Hernandez. In the sixth and seventh, a stronger and fresher Martinez stalked Hernandez around the ring as the Tijuana favorite looked worse for wear and boxed around the ring trying to stay away from his attacker.
Early on in the eighth Martinez rocks Hernandez with a hard right hand and seconds later lands a left hook to the body that drops "Perla Negra" to the canvas wincing in pain. Suprinsingly, Hernandez beats the count and goes on the counter attack and wins the round. Presumably behind on the score cards, Hernandez begins the ninth boxing from the perimeter but then thinks against it and invites Martinez into the phone booth in the middle of the ring again and goes after the mid section of the Cosa Rican trying to end the night early. Martinez gets hit with pot shots as Hernandez although seemingly winded is still able to box in the tenth round. As Martinez tries to gain real estate coming in with his hands down, Hernandez meets him with jab/right hand combinations through out the tenth and final round.
Judge Juan Carlos Pelayo scored it 95-94 for Hernandez while Monique Rendon saw it the other way for Martinez also with a 95-94 tally while the tie breaking judge Juan Jose Ramirez scored it 96-93 awarding a split decision for Hernandez."
More News