Posted on November 18, 2014
ROCKY FUENTES CAN UPSET 'CHOCOLATITO' GONZALEZ IN TITLE FIGHT
ROCKY FUENTES CAN UPSET 'CHOCOLATITO' GONZALEZ IN TITLE FIGHT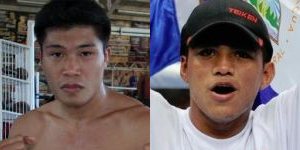 By: Ronnie Nathanielsz
Philboxing
Although he is a huge underdog in his second attempt at winning a world flyweight title against outstanding, undefeated World Boxing Council champion Roman "Chocolatito" Gonzalez (40-0, 34 KO's), the trainer of Rocky "Road Warrior" Fuentes (35-7-2, 20 KO's) believes the former Oriental Pacific Boxing Federation champion has a 50-50 chance of stunning Gonzalez when they clash in Kanagawa, Japan on Saturday.
ALA Gym head trainer Edito "Ala" Villamor told the Manila Standard/Viva Sports that Fuentes "is in good condition after great preparation and has a 50-50 chance against a great champion."
He said Gonzalez is an aggressive fighter "who goes in which gives Rocky a big chance for solid counter punches unlike WBO champion Amnat Ruenroeng who kept running."
Another advantage cited by Villamor is that Fuentes had sparred with Gonzalez when the Nicaraguan was preparing for his title fight against Akira Yaegashi in what Asian Boxing Scene described as "a fantastic performance" last September.
But Fuentes who has been sparring with WBO light flyweight champion Donnie Nietes, former flyweight title challenger Milan Melindo and undefeated super bantamweight Genesis Servania, isn't awed by the reputation of Gonzalez.
Strength and conditioning coach Nick Curson said "Rocky is in excellent shape, has great stamina and power and excellent reaction" although Curson admits Gonzalez is a formidable opponent.
ALA Promotions president Michael Aldeguer said Fuentes "is upbeat and Japan is like his home" since he has fought there many times in winning and defending his OPBF title.
He conceded that Fuentes "is up against the best but this is the best time for Rocky."
The return to the ring after a short break for the fight against Fuentes will be Gonzalez' fourth this year. While Asian Boxing Scene said that going into the bout "many seem to view it as a total mismatch, we'll admit we are still looking forward with an expectation of real action between two really exciting fighters."
The World Boxing Council quoted Gonzalez who said "I'm in oprimum shape. My physical condition is top-notch to face Fuentes who's a hard and dedicated rival. Rocky knows how to throw combinations and he is able to vary his punches."
More News