Posted on November 27, 2014
GASCA GETS SECOND SHOT AT IBO FEATHERWEIGHT TITLE
GASCA GETS SECOND SHOT AT IBO FEATHERWEIGHT TITLE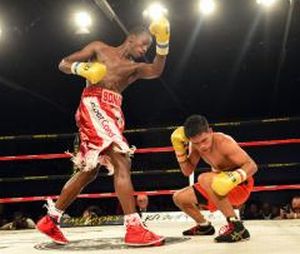 By: Ronnie Nathanielsz
Philboxing
Stylish boxer Roli Gasca gets a second chance at the International Boxing Organization featherweight title when he faces Lusanda Komanisi of South Africa for the vacant title at the Orient Theatre in East London on December 15.
In his first crack at the title Gasca discovered that giving away almost five pounds to IBO junior featherweight champion Thabo Sonjica was too much as he lost a chance to win the title which was stripped from the South African who failed to make the weight for their clash at the Emperors Palace in East London last August 9.
South African media reported that in the end the rangy Sonjica emerged a runaway winner from his mismatched, diminutive Filipino challenger.
In a bizarre turn of events, Sonjica was stripped of his title even before entering the ring after stepping on the pre-fight scales a substantial two kilograms above the junior featherweight limit.
All three South African judges had Sonjica a comfortable winner with two judges scoring it for Sonjica, 116-109 and the third judge 117-109.
Super Sport said Sonjica emerged winner in what it described as "an absorbing confrontation in which both boxers hit the canvas for counts of eight, and the over-powered Gasca was a good head shorter in height than his opponent."
Sonjica won the IBO title with a 6th round TKO of another Filipino, former WBC Silver champion Sylvester Lopez.
Gasca who has a record of 22-5-1 with 6 knockouts is primed and ready this time around to face the 25 year old Komanisi who has a scary record of 16 knockouts in 17 wins with 3 losses.
The former Oriental Pacific Boxing Federation champion is a talented boxer and is expected to use his skill to try and win the IBO title from Komanisi who grabbed the vacant title with a 5th round TKO over Macbute Sinyabi last July 18 after Komanisi sent Sinyabi to the ropes ending the carnage with a follow-up barrage.
Photo: Sonjica (L) and Gasca.
More News