Posted on November 13, 2014
CHOCOLATITO' GONZALEZ ALREADY IN JAPAN PREPARING FOR FUENTES TITLE DEFENSE
'CHOCOLATITO' GONZALEZ ALREADY IN JAPAN PREPARING FOR FUENTES TITLE DEFENSE
By Ronnie Nathanielsz
PhilBoxing.com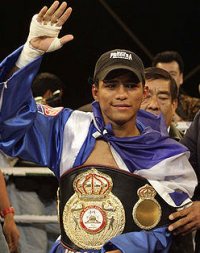 Gonzalez.
World Boxing Council flyweight champion Roman "Chocolatito" Gonzalez is already in Japan preparing for his first title defense against former OPBF champion and title challenger Rocky "The Road Warrior" Fuentes on November 22 in Japan.
The WBC reported that Gonzalez is "is ready for a crunch first defense of his flyweight crown."
He arrived in Japan along with trainer Arnulfo Obando, physical conditioning coach Wilmer Hernandez and his father Luis Gonzalez.
The WBC said that 'Chocolatito' had "an excellent sparring session with Japan's Muranaka who has a record of 21-2-1 with 7 knockouts.
Obando said "we don't have problems with the weight. Roman is already at 118 points. He will be at 114 pounds on Saturday and will keep that weight until the day of the fight."
Gonzalez has a brilliant unbeaten record of 40-0 with 34 knockouts while Fuentes has a record of 35-7-2 with 20 knockouts.
American strength and conditioning coach Nick Curson told the Manila Standard/Viva Sports that Fuentes has been working very hard and has been "a pleasant surprise to work with. He is very dedicated, trains hard and adapts quickly."
Curson said the endurance of Fuentes "is perfect while his power is coming around nicely while his agility and footwork have improved."
The strength and conditioning coach said "I'm a realist and I know Rocky is a heavy underdog in his fight against champion Gonzales. I can only predict that Rocky will be stronger and better conditioned than Gonzales but skill-wise Gonzales is a legend" even as he predicted "this will be an exciting fight and I can't think of an outcome that will surprise me."

More News